STRING CURTAIN - INFORMATION & HOW TO ORDER
The Rainfall String Curtains are:-
- All made to measure with a maximum of 5m (500cm) width and 11m (1100cm) drop.
- Made to the nearest centimetre, i.e.322cm wide x 288cm drop.
- All curtains come as a flat panel, ready to hang with 3 styles of headings to choose from.
- The curtains do not tangle.
Heading A - comes with a curtain track tape (hooks not supplied) plus a 3cm pocket opening.
Heading B - A 5cm pocket opening for a Rod or Pole.

Heading C - Eyelet Header.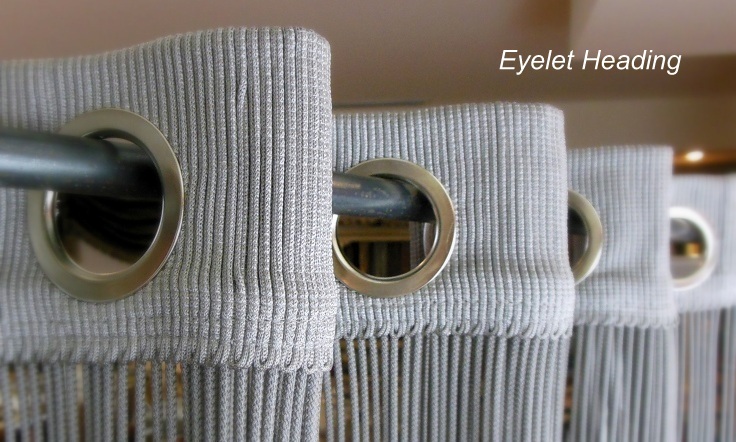 To achieve the full pleated look please order twice the width required i.e for a 150cm opening you would require 300cm.
The metal eyelet rings are available in 6 contemporary finishes.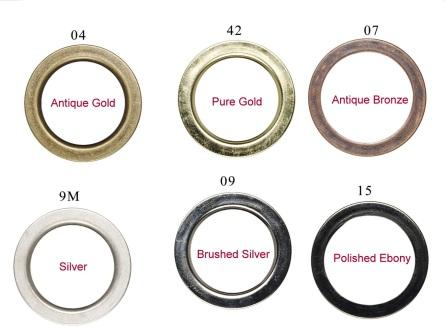 How to order:
Contact us via email, phone or fax with the following details for a quote and delivery date.
- The article and colour of the string curtain i.e. SC10 - Colour 01 crisp white.
- The width and drop in centimetres i.e. 322cm wide x 338cm drop.
- The style of heading you require, A, B or C.
- Your contact details.
Please note:
- Allow 6-8 weeks from time of ordering to delivery.
- A 50% deposit is required before production. The remaining 50% balance to be paid before delivery.
- Your order cannot be cancelled once the deposit has been recieved.
- There are NO REFUNDS on Rainfall String Curtains, unless curtain is different to that ordered.
Free Sample Service:
To help you with style and colour selection we offer a free sample service. You may request up to 5 sample chips.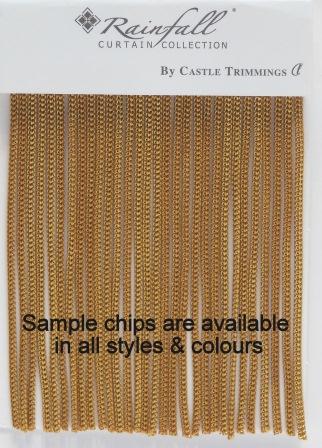 There are no products to list in this category.