Piping Cord 9mm Width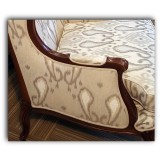 Double piping also known as double cording, is one piece of trim that looks like two rows of piping close together. It's a common finishing element in upholstery and is often used to hide staples and the raw edges of fabric where the fabric meets the chair frame.
Click on the picture below to see the 23 colours we have available.
Showing 1 to 1 of 1 (1 Pages)