Tassel Tieback with Wooden Barrel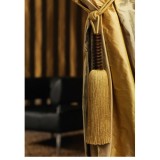 Please select a Curtain Tieback style to view colours available.
On Sale

AU$154.00

AU$55.00




Ex GST: AU$50.00

The Amazonas Single Tassel Tie Back. This item is part of the Amazonas Collection. To see related..

On Sale

AU$66.00

AU$44.00




Ex GST: AU$40.00

From the intricate weave of the cord, to the turned perspex barrel and long sleek fringe skirt the M..
Showing 1 to 2 of 2 (1 Pages)